Top 6 Slack Apps for Live Chat in 2023
By ChatWidget.info team
Oct 17, 2022
| 15 mins
Updated: Mar 1, 2023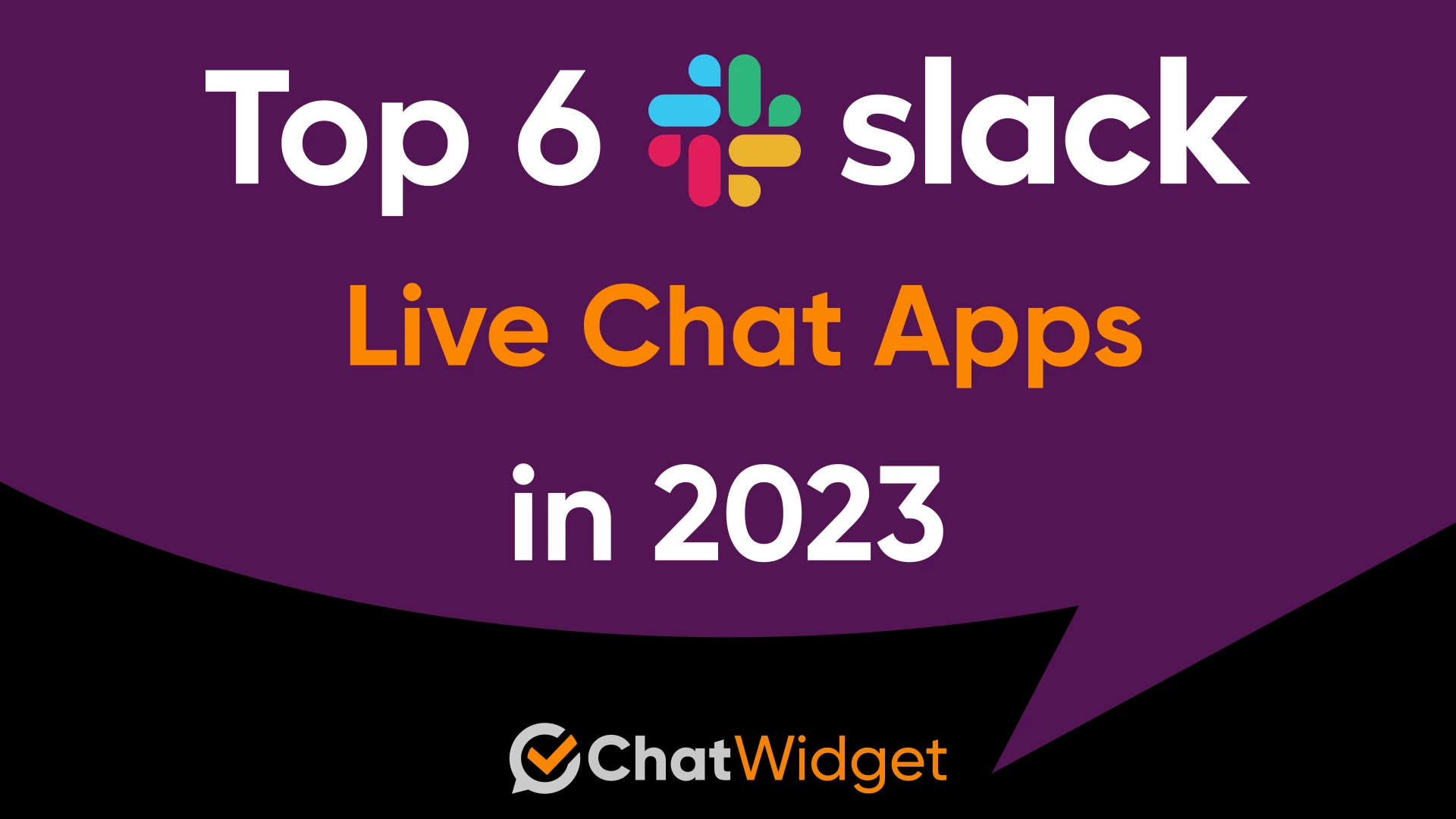 More and more companies are using Slack to communicate internally - it's fast, efficient, and gets the job done. But what if you could answer your customers or website visitors on the same platform? Well, you actually can! For this article, we have tested six apps that let you do just that and examined their pros and cons.
Integrate Your Live Chat with Slack Apps
Your business can't do without live chat these days, and Slack fits here perfectly. It is almost as if Slack was developed with this purpose in mind seeing how its core functionality overlaps with that of live chat. So, no more switching tabs and logging in and out. Start interacting with your website visitors through Slack. It's just a plugin installation away!
Below you will find six providers with their pros and cons. Every provider in our list offers free trials and, more important, without the requirement of entering your credit card information (we frown upon this practice). We installed all apps in our Slack workspace (free plan) and tried them out for you. Aside from sharing our overall impression, we will focus on features specific to Slack. We have selected the following criteria to make sure we compare apples to apples:
the lowest pricing options for the chat to work through Slack (monthly billed)
the number of seats (agents to use the chat concurrently)
restrictions on the number of conversations (chat sessions) per month
the possibility to customize the look and feel of the widget
Without further ado, here is our take on six outstanding Slack Live Chat integrations!


1. Hybrid.Chat Slack App
Price: from $0 per month (Basic: $29 p/m)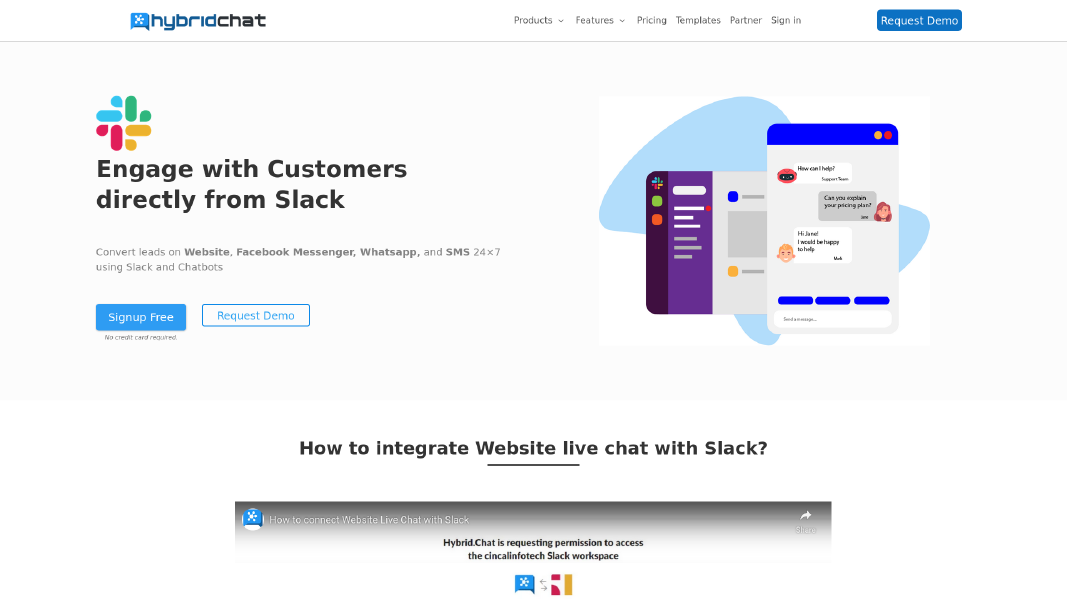 What Is Hybrid.Chat?
Hybrid.Chat is a low-code conversational AI tool to build NLP-based chatbots, omnichannel shared inboxes, automation workflows, and e-commerce order management bots. It has many features that make it a good choice for Slack users who need live chat functionality with some bells and whistles. You can try their complete suite in a 14 day free trial.
Pros
Hybrid.Chat's free plan includes features like adding bots and setting up triggers, relying on Scratch to help you create the bot flow. Hybrid.Chat also has a ton of integrations through Zapier, making it a very pluggable system. As you would expect, the features and the number of conversations are limited in the free plan. The Basic plan of $29 per month is on par with the other providers, even offering 1000 conversations per month and options like bots for WhatsApp and SMS.
Cons
Setting up a new bot does not feel intuitive, and the interface looks a bit outdated. Especially routing conversations to human interaction can lead to a rocky start. On top of that, if you're on the free plan from Slack, you will lose chat history.
Summary
Chatbot available
Free plan
Only 100 conversations per month
Complicated bot creation


---
2. Acorn Chat Slack App
Price: $29 per month (Single plan)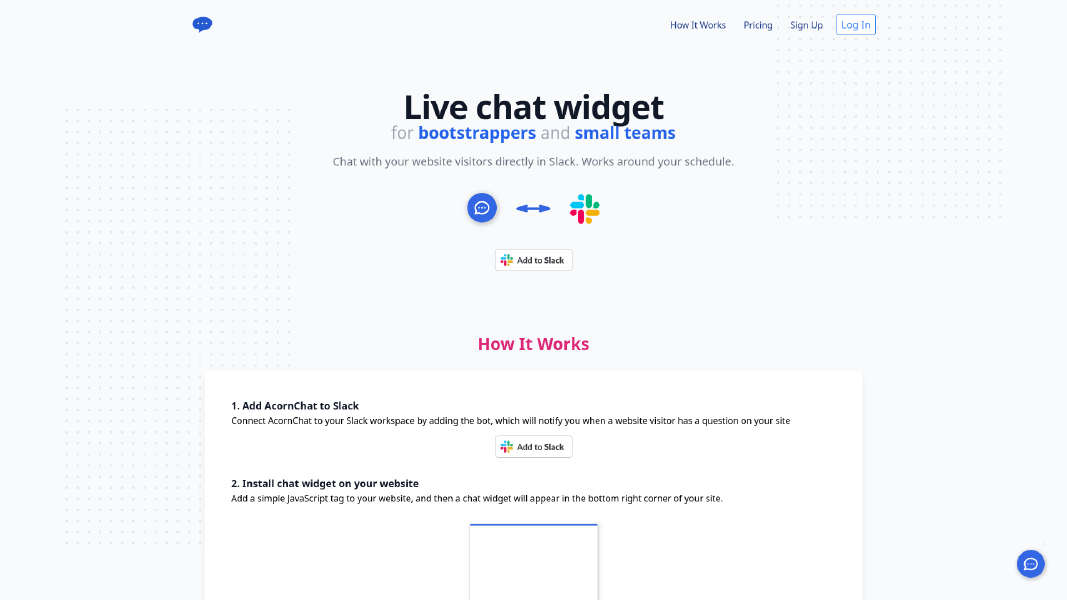 What Is Acorn Chat?
Acorn Chat is an app made by a single developer. The creator couldn't find a basic chatwidget connected to Slack that suited his needs, so he built it himself. The app had one requirement besides the Slack integration; to show an email capture widget instead of the live chat when offline. You can try it with a 30 day free trial.
Pros
Acorn Chat is a super simple, no-nonsense application. No fancy features, just Live Chat! The app is straightforward in its use and offers the purest form of Live Chat you can imagine. A cool thing about Acorn Chat is that the chats themselves take place in Slacks Threads rather than channels. For a low amount of Chats per month, this is ideal as it doesn't bloat your Slack instance with many channels. Acorn Chat has a particular target customer: businesses smaller than 15 people.
Cons
Acorn Chat does not include many features like the other chat apps, which makes sense considering its purpose. If you are a big corporation or heavily depend on interactions with customers, Acorn Chat is not a fit for you. Acorn Chat does not offer phone support but seems to rely on email. So, if you need help with the product outside of business hours, you'd probably need to wait for a squirrel to answer your questions.
Summary
Unlimited Seats / Domains
500 conversations per month
Limited Support
Limited Features


---
3. Chatlio Slack App
Price: from $29 per month (Starter version)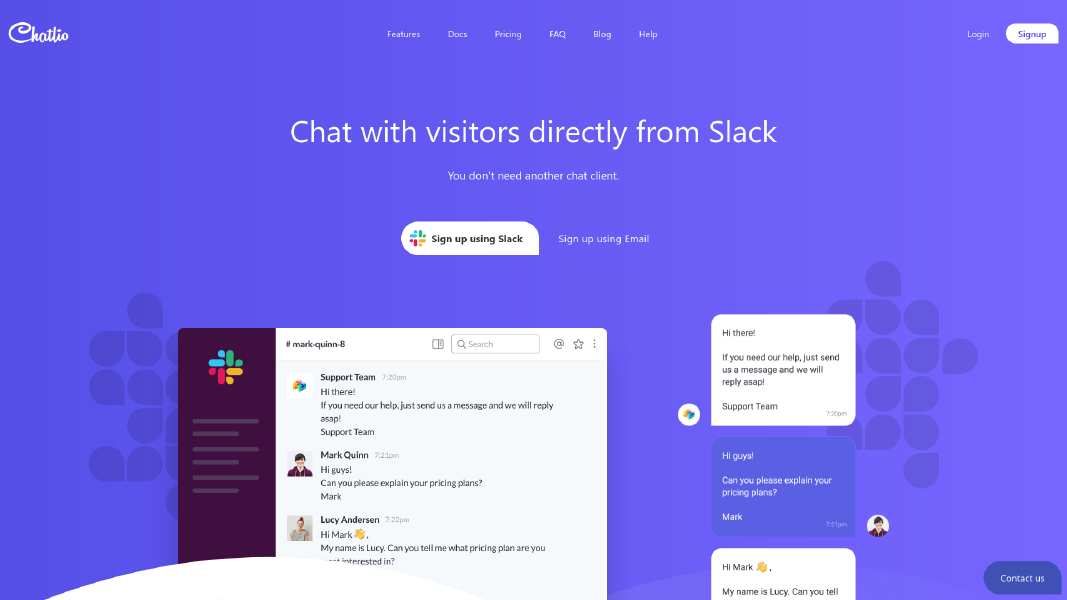 What Is Chatlio?
Chatlio is the first live chat provider with proper bi-directional Slack integration. It is the kind of do-one-thing and do-it-well product that we just love. If you are an avid Slack user and organize most of your work there, Chatlio is an excellent match for you. You can try out all features in a free 30 day trial.
Pros
Chatlio only develops for Slack and leverage that focus for additional functionality. For example, you can use a list of powerful commands to get the most out of the live chat, like asking a visitor permission to take a screenshot. In the past, it could be hard to keep track of conversations. Now, any member of your Chatlio channel can move joined conversations to a dedicated Slack channel. Combined with visitor information like location, current web page, and type of OS, it gives you adequate tools to manage your live chat. For additional integration and customization, they maintain a well-documented JavaScript API and offer the possibility to style your widget in their dashboard or through CSS.
Cons
You will probably exceed the 200 conversations per month rather quickly, and the features in the Starter plan are limited. You won't have access to triggers, automated messages, canned replies, or pre-chat forms. Chatbot integration is not available in this plan as well.
Summary
Dedicated Slack App with plenty of features
Widget customization (dashboard + CSS) and API
Only 200 conversations per month
No triggers, automation, etc. in Starter plan


---
4. Social Intents Slack App
Price: from $49 per month (Starter version)
What Is Social Intents?
Social Intents focuses on customer engagement and takes care of your live chat, apps for conversion popups, and feedback forms. Their chat widget has a lot of plugins and integrates with popular business communication tools like Teams, Webex, Zoom, and of course, Slack. You can try out all their plans with a 14 day free trial.
Pros
Social Intents has several features that make it stand out from other apps. It includes various tools to initiate conversations and feedback forms. Additionally, Social Intents has more than a few integrations through Zapier and offers a dashboard with statistics. A fun detail is the option to use your Slack profile photo during chat sessions with a customer.
Cons
The Starter plan, with a limited number of 200 conversations per month, is considerably more expensive than comparable Slack integrations. It also doesn't include canned messages or custom chatbots. Such features are only available in their Pro plan at a hefty $132/month fee. Of course, this plan has plenty of additional features and upscaled capacity.
Summary
3 Seats
Statistics Dashboard
Only 200 conversations per month
More expensive


---
5. Slaask Slack App
Price: from $29 per month (Standard version)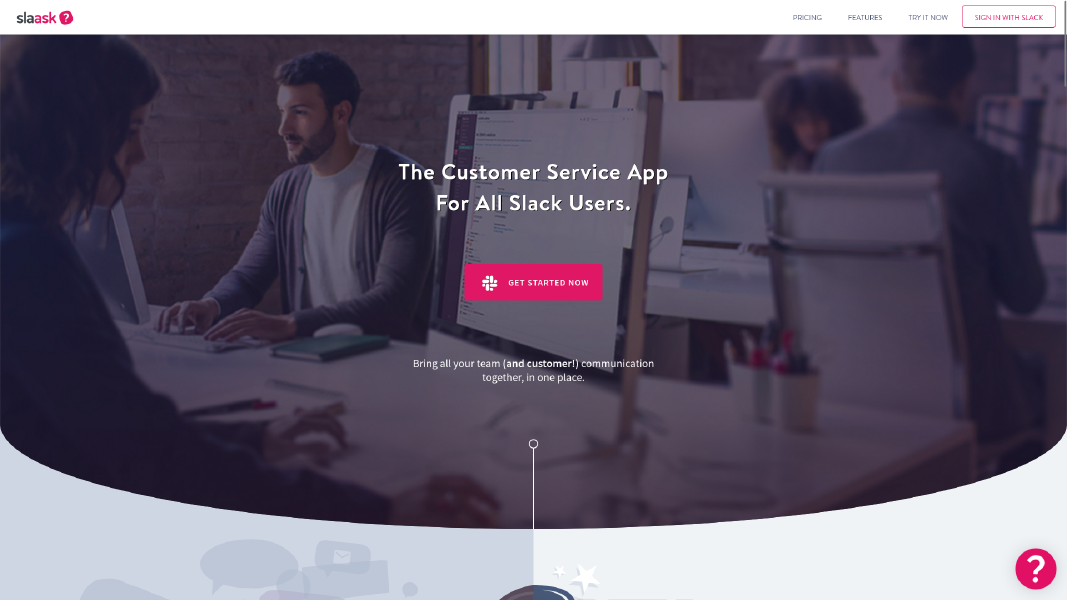 What Is Slaask?
Slaask allows your company to harmonize all of your internal and external communication. You can interact with your leads and customers wherever they are (your site, mobile app, mailbox, etc.) from Slack. They offer free 14 day trials on all plans.
Pros
Slaask is, like Chatlio, a dedicated Slack live chat application. They provide extensive live chat functionality for SMB companies that already use Slack. Their pricing plan is flat, and they do not charge extra for additional agent seats or conversations. Slaask's massive number of features makes it a sensible choice for any business. For example, you can use it to schedule meetings or compose complete conversational flows for booking restaurant tables and hotel rooms. To top it all off, you get access to advanced statistics.
Cons
We couldn't find any negative points in our test run. However, if you noticed something please let us know and we will look into it.
Summary
Unlimited Seats
Unlimited conversations
Dedicated Slack App with the most features
Advanced Widget Customization
---
6. Crisp Slack App
Price: from $25 per month (Pro version)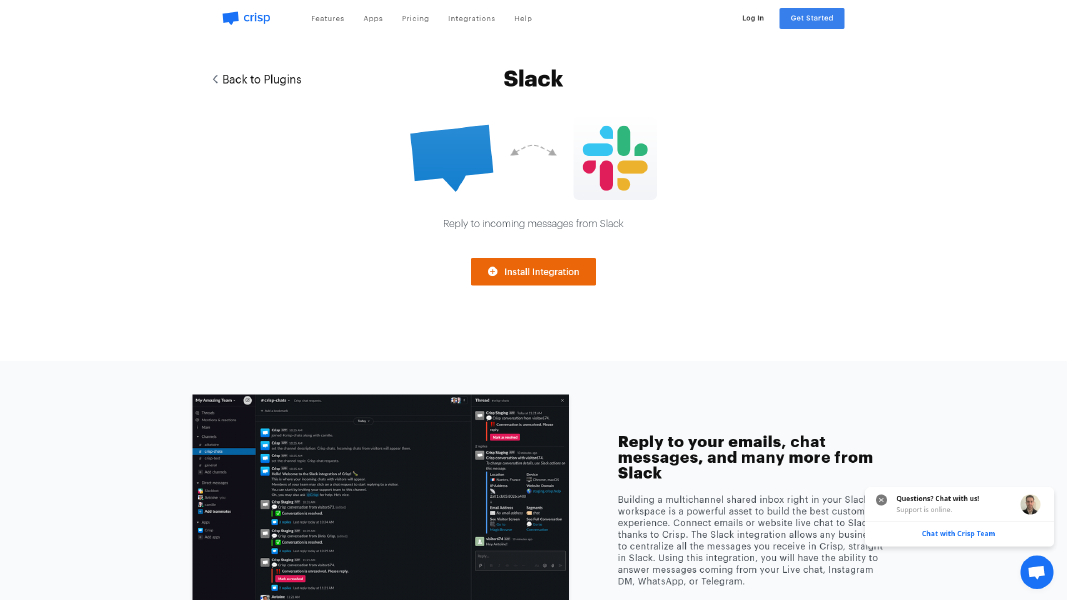 What Is Crisp?
Crisp combines a clean design with top of the line functionality. It is one of the most complete live chat platforms built for the 21st century. They offer a free plan which, unfortunately, doesn't allow you to integrate Slack. You require the Pro plan to benefit from the Slack app. The Pro plan comes with four agent seats included. Crisp offers 14 day free trials on all plans (with additional days when you add features).
Pros
It has a great API and their Pro plan features functionalities like audio messages and triggers to initiate conversations. This plan also comes with a handy CRM to manage conversations and chat history. The preset Slack shortcuts are very useful and you even have the option to create custom shortcuts. Their widget has a fun little detail: the option for visitors to play a crispy bird game if an agent is slow to respond.
Cons
Features like chatbots, automatic replies, advanced analytics, and live translation are up another pricing tier. If you want to leverage the complete platform or use any of these features, you will be faced with a $95 per month bill. The Unlimited plan does include 20 seats, though.
Summary
4 Seats
Great widget customization
Intuitive design
200 conversations per month


---
The Best Slack Live Chat App in 2023
There are a lot of different Slack chat apps out there, we will review others in future blog posts. For this article, we made a selection of those that met our criteria and installed them in a Slack workspace on a free plan. Every app in our list offers free trials without a credit card required.
So, how do you choose the right provider?
Simple!
Are you a small business or have a small team who occasionally needs to speak with a customer? Easy! Go with Hybrid.Chat's free plan. However, prepare to spend some time configuring your chatbot. But hey, you get what you pay for! If you have access to a technical person to help with the integration you'll be fine.

If you're getting (significant) revenue from new clients, for example, B2B businesses, it makes sense to go with a more advanced chat provider. Slaask is a magnificent example of a dedicated Slack live chat that ticks all the boxes.
Our personal favorite is Slaask. It is the most feature-complete application to manage your customer contact through Slack. Also, it has the most straightforward pricing plan without a limited number of conversations. We believe it doesn't make sense to upscale your subscription with features you don't want only to be able to have more conversations. Slaask understands that well.
It doesn't mean we didn't like the others. Each of the providers has its own merits. We would like to mention Chatlio with its amazing Slack integration, and recommend Crisp for larger companies.
On a side note, some live chat integrations in the Slack App Directory only allow you to receive message notifications. You can't reply from within Slack. Such integrations do not add much value from our perspective unless that is a workflow you prefer. We have therefore omitted these in this article.
We hope our overview of these six Slack chat apps helps you choose the right fit for your needs. Each app has its own unique set of features, so be sure to try out a few instead of settling right away.
PS: If you are reading this as a chat provider with Slack integration, please reach out to us. We'll gladly list you in our next post!