Boei.help Takes on Live Chat Providers
By ChatWidget.info team
Dec 5, 2022
| 8 mins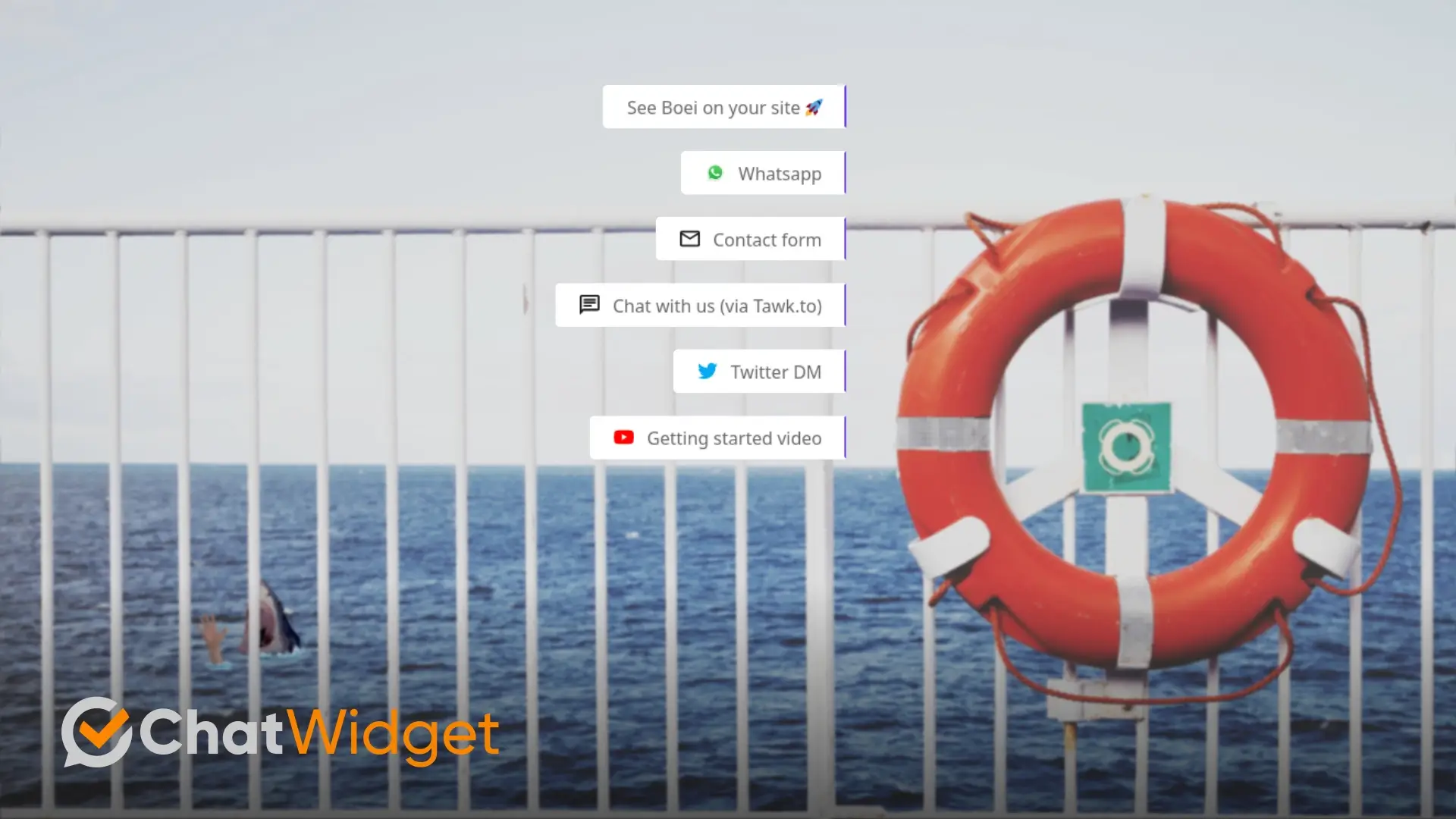 Boei.help has disrupted the live chat market with its ability to integrate instant messaging apps and other communication channels aside from website live chat. Boei offers companies a range of benefits in conducting exceptional customer support that allows it to take on live chat providers. Let's have a look at the superiority of Boei over dedicated live chat platforms currently available in the market.
Boei [bü-ē] (Dutch) noun - Buoy
a floating anchored mark
acting as a guide
warning or mooring point for boats
Capture More Leads and Enhance Conversions
One of the main reasons why you create your website and social media is to increase the number of conversions you receive. With Boei, you can increase conversion rates by revamping your customer service and support methods.
Potential buyers will naturally have inquiries as they explore your site. Making it simple for people to contact you with Boei means you can more quickly respond to their inquiries and incorporate their input into future iterations of your product, increasing the likelihood that they will become paying customers.
Since Boei improves customer care and support with its multi-channel communication integration, you can enhance your conversion rates. You are laying the groundwork for further interaction, even if you are unable to carry on the further discussion at that time. It's up to your strategies to convert captured leads into actual sales.
Multi-channel Communication: Integrations
Boei is a solution for engaging customers that can improve the experience that customers have while visiting a company's website. It allows the integration of multiple channels of communication. This way, visitors or existing customers can reach out to customer support via the channel they feel most comfortable with.
These are some communication channels you can integrate into your website with Boei:
WhatsApp
Telegram
Facebook
Facebook Messenger
Email
Skype
Instagram
Snapchat
Twitter Page
Twitter DMs
Google Maps
Crisp Chat
Intercom Chat
Line
Calendly
Viber
Engage with Customers and Build Trust
It's pretty natural that customers who aren't connected with a company would hesitate to purchase their products and/or services. Finding ways to connect with people and earn their trust is a significant challenge in every organization, as it is what ultimately leads to customers making purchases.
In contrast to leaving messages on chat windows or filling out a guest form, Boei allows visitors to reach out to your business via instant messaging channels such as WhatsApp, Facebook Messenger, Line, or even voice chat. This way, they would be able to have in-depth conversations with your agents about their needs and immediately make information requests or schedule appointments.
Streamlined, Centralized Contact Information
Finding and filling out contact forms for businesses is a hassle that customers no longer have to go through. Boei consolidates the whole process into one, streamlined process. All it takes is a few clicks for a visitor to schedule a chat with you at a time convenient for them using their favorite chat platform or instant messaging app.
Reduce Company's Budget for Customer Support
Regardless of the scale and size of your business, you'll want to find ways to cut back on customer support expenses. Indeed, from software investment to the whole operation, customer support could be costly, especially if you don't know how to get the most out of them.
You may spend thousands of dollars per month for multiple widgets and integration tools that take hours just to put up. Boei streamlines the process with its integration for your customer support which requires a low quantity of human resources needed for setup. Small business owners can save big bucks with the ultimate integrations brought by Boei.
Stand Out and Drive More Traffic
It's common knowledge that drawing in new clients can be challenging. How can you make prospective customers or clients notice your company among the numerous others competing for their interest? You might be confident with your products and services, but how to make your customer support stand out?
Boei comes with a brilliant idea: provide something truly special for customers to enjoy. Modern consumers are wired for rapid satisfaction and expect everything to happen instantly. So rather than forcing them to use live chat or completing the form, Boei integration gives them the opportunity to talk with customer support agents on their preferred social media platform. This strategy would increase the likelihood that they will convert into paying customers.
Call to Action: Winning the Competition
Boei reminds your site visitors to contact you by performing a call to action(CTA) right next to the button they were about to click. It's the right amount of intrusion to capture their attention without driving them crazy with constant notifications. A more friendly approach wins visitors' hearts and makes them less hesitant to make the first contact.
On the other hand, you can make the widget uniquely yours by modifying colors and messaging to suit your branding and campaign. You can achieve a more professional appearance with a customized widget. This way, there are greater chances your web visitors contact your customer support instead of your competitors.
Ability To Track The Interactions
Boei is a fantastic tool for monitoring communications with your site's users. Your button will come with weekly reports detailing the number of clicks and/or exchanges it has generated. These data analytics are insightful to improve your customer support team and performance.
Adjusting your personnel or availability to coincide with peak traffic periods might help you better serve your customers and drive more conversions. In general, you can have more effective and efficient customer support with analytics of your website provided by Boei.
Ultimate Forms for Enhanced Customer Interactions
Customers can connect with your website in a variety of ways thanks to Boei's various forms available on your site. These include Feedback Form, Contact Form, Call Me Back Form, Newsletter Signup, and other forms. The customer can fill out the form based on their preferences including the communication channel, schedule, format, media, and so forth.
Since customers have chosen the best possible way to get their queries answered and to interact with your company, your business would get a better engagement rate. You can also customize the form to gather the information that helps you better the customer support experience or even increase the conversion rate.